Le Plongeoir in Nice
Come and taste some of our products,!
We invite you to discover the new cocktail bar located at the restaurant "Le Plongeoir" in Nice.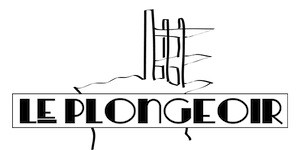 Our barmen, Ben et Romain were pleased to serve you a classical cocktail done in the "state of the art" or a 1Day1Event creation like "Le grand saut" (Vodka, strawberry, basil, cane sugar, lime). If you were prefering to remain "reasonable", you can enjoy our alcool free cocktails like "L'exotisme" (Mango, pineapple and ginger beer).
To go with your drink, you can share a plate (Nice stuffed vegetables, delicatessen and cheese, tempuras, …).
Would it be for a lazy afternoon with friends, networking after work or a romantic evening, … The lounge atmosphere, the enchanting setting and … the sea view, garantee a soirée to remember.
The restaurant's bar, "Le Vivier", is open every day from 5pm to 11pm from June to September, click to have a look to the menu.
It's located 60, Boulevard Franck Pilatte (just after the pier for the Corsican ferries). The access is easy with a flight of stairs that will take you to a beautiful terrasse by the shore. No problem to park the car (you can use the valet parking facility), you can even arrive with your own boat and berth there …
To have a look to our services, do not hesitate to have a look to our pages
Private catering
and
Private mobile bar service
or
Ask for a quote
A potted history of Le plongeoir
Le Plongeoir dates back to 1862. The name «La Réserve » comes from the fish pond at the foot of the original restaurant.
Initially, it was just a modest wooden pavilion where the locals enjoyed sea food, then in 1876, a real restaurant was built.
Two surprising buidings were then linked together with bridges. A luxourious kiosk and THE "local curiousity" and a concrete fishing boat named «The Inflexible» , built on a rock, 6m above the sea level.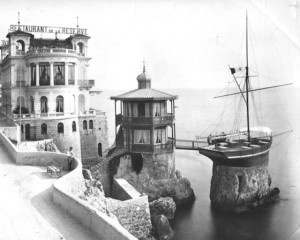 This "curiosity on the sea" attracted tourists and bourgeois from the "Belle Epoque". They came to have dinner, enjoy a cup of tea or dance.
In 1941, in place of the disappeared ship, the architect René Livieri (1908-1995) built the second « curiosity » of the place: a diving platform (Le Plongeoir).
In an Art Deco style, the impressive building soon became a reference for modern architecture.
As time sailed by, restaurants succeeded one another until the site was finally abandoned. Finaly, erosion by the sea caused it to literally tomber à l'eau.
In 2015, Marc Dussoulier took up the torch, and life came back to this mythical place, beloved by the locals.